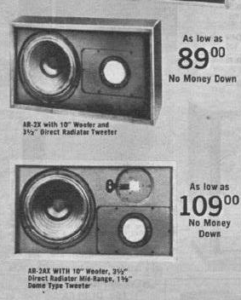 AR-2x and AR-2ax Speaker
Der Acoustic Research 2x und 2ax (AR-2x / AR -2ax) basiert auf dem Design des 3a, ausgestattet mit günstigeren Einzelteilen. Der Preis des 2x and 2ax war Entscheidend für seinen Erfolg, da die beiden Lautsprechermodelle von guter Qualität waren und gleichzeitig mit vegleichsweise niedrigem Preis überzeugten. Viele Elemente des teureren 3a wurden für den 2x/ 2ax übernommen was zu einem überzeugenden Preis-Leistungsverhältnis führte.
Unterscheidung des AR-2x und AR-2ax:
Der AR-2ax ist ein 3-wege acoustic suspension Lautsprecher, das Gehäuse ist daher komplett geschlossen. Der AR-2x ist ein 2-wege acoustic suspension Lautsprecher, ohne den Supertweeter des AR-2ax,
Wie im Foto rechts ersichtlich, waren die Preise für beide Lautsprechermodelle im Jahr 1971 relativ ähnlich.
Die Lautsprecher waren in verschiedenen Gehäusen erhältlich, mit dem günstigesten Modellen ab $89 / $109 aus unbearbeiteter Kiefer. Weitere Modellvarianten waren eine Walnussversion ($102 / $128) und eine Mahagony /Birkeversion für $96/$122.
Ein Zitat der 1972 Acoustic Research Anzeige besagt:
"The AR-2ax is a lower-cost version of our basic acoustic suspension design. It contains the 254mm woofer and 19 mm hemispherical dome, for very high frequencies, used in the AR-5. The midrange is covered by an 89 mm wide-dispersion cone unit. Separate controls on the back of the AR-2ax permit independent adjustment of the level of the midrange and high-frequency speakers." (1960/70ies Acoustic Research brochure)
AR-2x/2ax Lautsprecher können regelmäßig in Secondhand Läden und bei Ebay gefunden werden.
Für ein Set in gutem Zustand sollte man in etwa 80 Euro bezahlen. Ein Set in exzellentem Zustand kann alerdings auch über 150 Euro kosten.
Refoaming eines AR-2x und AR-2ax:
Besonders alte Acoustic Research Lautsprecher sollten je nach Zustand neue Schaumumrandungen erhalten. Dabei müssen Sie nicht zum Fachmann gehen, sondern können den kompletten Austausch mit ein wenig Zeit selber vornehmen. Ein passendes "Refoamkit" kostet etwa 20-30 Euro und alle notwendigen Werkzeuge und Materialien werden mitgeliefert. Für das AR-2x/2ax Modell empfehlen wir das 10″ inch Surround Kit von Parts Express. Sie können es hier in unserem
Store
finden.
AR-2x

/2ax

Pr

eis

:

€

80-1

6

0
Diskussion in Englisch über AR-2x Lautsprecher Link to classicspeakerpages.net