Description and Review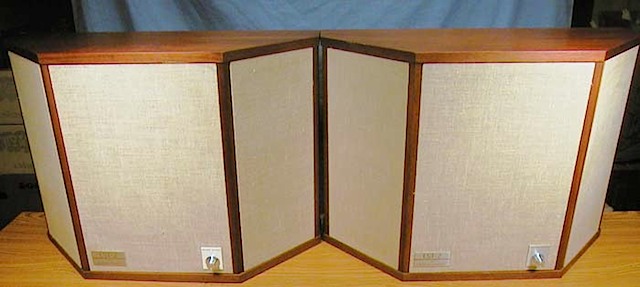 AR-LST-2 Speaker
Acoustic Research´s LST speaker system was the company´s most advanced speaker system, designed for professional use. Most striking are the LST´s angled sides, differentiating this pair from all other AR speakers. The AR-LST, meaning Laboratory Standard Transducer, uses the same drivers as the AR-3a. Not only is each speaker equipped with the 3a´s 12 inch woofer, but with four of its midrange speakers and four of its tweeters and has therefor a significantly higher power handling capability.
The LST´s output energy can be controlled with a switch, allowing six different levels (spectral energy profiles). AR´s LST-2 is based on the AR-LST, offering similar features, but at a significantly lower price. It has only three available spectral energy profiles instead of the six of the LST.
The LST-2 utilizes the speakers of the AR-5, in detail, the AR-5 10 inch woofer, three of its midrange speakers and three of its tweeters. Acoustic Research´s old manual states that the major difference between the AR-LST and AR-LST-2 is that the LST´s bass response extends slightly lower and that its power-handling capability is slightly higher, but at a higher price.
The shape of both speaker systems is nearly identical. However, the LST is slightly bigger, measuring 27 x 20 x 9 ¾ inches (the LST-2: 25½ x 18½ x 9¾). Also, the weight of the LST is significantly greater with about 90 lbs. for each speaker (LST/2: 60 lbs.)
Price AR-LST
AR-LST without grills
The AR-LST has originally been sold for $600. As the speakers are rare and of great value, its highly price did not fall over time. The price of AR´s high-end speaker depends on its condition and can be everywhere from a few hundred up to a few thousand dollars. A decent pair of LST speakers will cost around $1500, but they have also been sold on ebay for over $2500 in 2009. If you are lucky, you will find them on ebay, however, they are rarely available for sale.
Price AR-LST-2
AR-LST-2 without grills
As the LST-2 was the lighter, smaller and cheaper version of the LST, they have been sold in higher numbers and are nowadays still available and more affordable. For a good pair of LST-2 you will have to pay at least $500, frequently a little more. On ebay, the LST-2 has been sold for $1020. In any case, prices vary, as the LST, as well as the LST-2 are rare and usually only for sale every other month.

AR LST Price: $1500-2500
(Depending on overall condition)
AR LST-2 Price: $500-1000
(Depending on overall condition)



Read our other Acoustic Research Reviews: